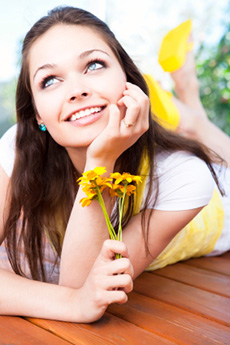 Have you ever seen someone with a smile so bright you wondered how it could even be possible? Having a white smile really can make you stand out. And who wouldn't want to show off such a fabulous smile all the time?
$50 OFF Teeth Bleaching!
Dr. Thompson at Battle Mountain Dental is pleased to provide two teeth whitening systems to lighten your teeth.
ZOOM!® Teeth Whitening
Zoom! is a powerful teeth bleaching system for whitening teeth. There is so much to love about this leading-edge teeth whitening technology!
Zoom! teeth whitening can whiten teeth in as little as one hour and can be completed right here in our office. Teeth whitening dentist Dr. Thompson prepares your gums and lips and then paints on the Zoom! teeth whitening gel. Then, he shines a metal halide teeth whitening light. He does this process three times throughout the hour. When the teeth bleaching process to whiten teeth is complete, your teeth can be several shades whiter than they were before!
You might walk in with a dull smile, but you can walk out with a real dazzler. Call us and let's discuss what our in-office teeth whitening system can do for your smile!
Professional take-home teeth whitening
You don't need to purchase a tooth bleaching system from the market or local drug store. Our professional take-home teeth whitening system is more powerful than anything you can buy over the counter.
We custom make trays that fit your teeth precisely. Every night, you place the professional take-home teeth whitening gel into the trays and then leave the trays in a few hours or over night. Within a few weeks, you can have whiter teeth.
We will often recommend using both tooth bleaching systems—in-office Zoom! to whiten teeth initially and then the professional take-home teeth whitening system as a touch up maintenance.
Call us today and learn more about our teeth whitening services! We love helping our patients achieve brighter smiles.