Dental Veneers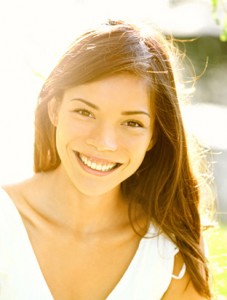 If you have chipped, cracked, discolored, misshapen teeth or gaps between your teeth, there are several cosmetic dentistry procedures that can give you the smile of your dreams. One fabulous procedure is called dental veneers.
What are Dental Veneers?
Dental veneers are an amazing treatment that takes a tooth veneer, which is a thin porcelain shell and bonds it to the front and sometimes the side of your tooth. The tooth veneer is sized and color matched to look completely natural in your smile.
There are two types of dental veneers: traditional and prepless. Both look and function the same. But traditional dental veneers require a little bit more preparation. The dentist removes a miniscule layer of enamel from your tooth before the tooth veneer is bonded on. With prepless dental veneers, the tooth veneer is bonded straight to your tooth without any preparation beforehand.
What are the benefits of Dental Veneers?
If you need one tooth repaired, a tooth veneer is a great fix and looks fantastic.
Dental veneers are color-matched to your natural teeth. However, if you have all the teeth that can be seen in your smile covered with dental veneers, you can have the dental veneers a few shades lighter and it will brighten your entire smile.
Even though a porcelain tooth veneer sounds fragile, each tooth veneer is very sturdy.
Dental veneers are a glamorous, beautiful remedy for a lackluster or misshapen smile and are much more affordable than you may think

.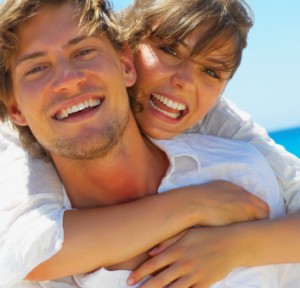 The process to apply dental veneers is very simple and straightforward.
Dr. Thompson will give you an initial consultation and gather information about your individual tooth veneer needs. He will partner with you about which procedure, traditional dental veneers or prepless veneers are best for you. He sends the information to the lab where your dental veneers are then custom made for you. Once the dental veneers arrive, Dr. Thompson will fit them to your teeth, make whatever adjustments need to be made, then bond them to your teeth. Once they are placed and affixed, he will make any other adjustments. Then, voila! You have a beautiful new smile!
For more information about dental veneers or to make an appointment, call today!