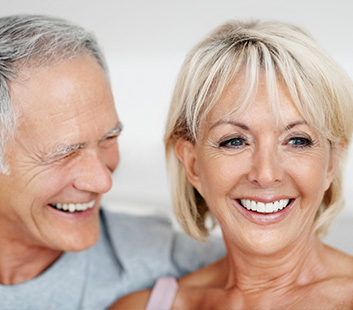 If you have any missing teeth, ask yourself these questions:
Are your missing teeth causing you embarrassment?
Are you uncomfortable going out in public?
Do you find it hard to eat some of the foods you love?
Are your remaining teeth getting extra wear because you are using them more to compensate for your missing teeth?
Are you tired of awkwardly smiling or covering your mouth when you smile because you don't like the gaps between your teeth?
If you answered yes to any of these questions, Battle Mountain Dental can help you. Dr. Thompson offers an excellent treatment that can give you back your smile: dental implants.
What are dental implants?
Dental implants are an implant dentistry procedure that creates artificial tooth roots. Your dentist inserts a small titanium rod into the gums and jawbone. Within three to six months, the rod fuses with the jawbone to form a sturdy new tooth root. This root, topped with a customized porcelain crown, becomes a new prosthetic tooth that can work normally alongside your other teeth.
Advantages of dental implants?
Dental implants are sturdy and can last many years with minimal maintenance.
A tooth implant looks just like your natural tooth. Using the most up to date implant dentistry practices and technology, we match its color and size to your other teeth so that the implant blends in with your smile.
Dental implants function like natural teeth. You can eat the foods you like and speak without any trouble.
A tooth implant requires no special care. Just brush and floss like you usually do and see your dentist regularly. As a bonus, a tooth implant will never get a cavity! However, the teeth around it are still susceptible.
Dental implants can be used in conjunction with dentures for stability.
Planning Your Treatment
We are proud to offer remarkable technology that can help us offer excellent dental care to the people of our community!
Before we begin treatment, we need to study your mouth to determine whether or not you are a good candidate for this tooth replacement option. One excellent device we can use is a 3D cone beam scanner.
3D Cone Beam Scanner
Two-dimensional x-rays and photographs of our teeth are invaluable tools in dentistry and have been used for over a century to help diagnose and repair dental difficulties.
However, they aren't without their drawbacks. Just one of those is that 2D imagery locks your view to one angle. You can't see behind or around anything.
Our 3D scanners overcome this obstacle by using a cone-shaped beam to scan your mouth from several angles at once, allowing us to create a full scale model of your teeth. This lets us study the insides of your mouth in greater detail than ever before!
This type of scanner is particularly useful when we are planning the placement of dental implants. We can use the scanner to help us decide where an implant would be most effective to provide the support needed for your new replacement teeth!
Come to Battle Mountain Dental to Restore Your Smile!
For more information about implant dentistry, call Battle Mountain Dental today!