Dental Implants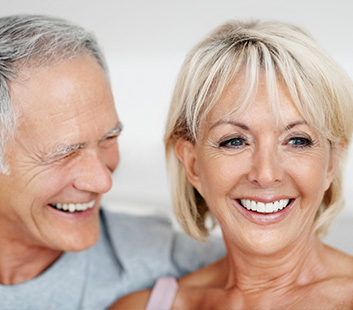 Do you have missing teeth and are uncomfortable going out in public? Are your missing teeth causing you embarrassment? Do you find it hard to eat some of the foods you love because of your missing teeth? Are your remaining teeth getting extra wear because you are using them more to compensate for your missing teeth? Are you tired of awkwardly smiling or covering your mouth when you smile because you don't like the gaps in your smile?
If so, there are many dental procedures that can help you. Dr. Thompson at Battle Mountain Dental offers an excellent treatment that can give you back your smile–for life. That solution is implant dentistry's dental implants.
What are Dental Implants?
Dental implants are an implant dentistry procedure that creates a "new" tooth root and tooth from a tooth implant. Your implant dentistry dentist inserts a small titanium rod into the gums and jawbone. Within 3-6 months, the rod ossifies (fuses) with the jawbone to form a "new" tooth root from the tooth implant. This root, topped with a permanent porcelain crown, becomes a "new" tooth, created by implant dentistry.
What are the advantages of Dental Implants?
Dental implants are sturdy and will probably last your whole life long.
A tooth implant looks just like your natural tooth. Using the most up to date implant dentistry practices and technology, we color and size match it so the tooth implant blends in with your smile, so feel free to laugh, smile and get your photo taken. You will have a complete smile where there was a gap and it can look completely natural.
Dental implants function like natural teeth. You can eat the foods you like.
A tooth implant requires no special care. Just brush and floss like you usually do and see your dentist regularly. And a tooth implant will never get a cavity!
Dental implants can be used in conjunction with dentures for a sturdy denture option.
For more information about implant dentistry, call today!