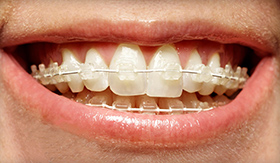 Having a beautiful, straight smile is a precious commodity in today's world. However, it can also be essential—especially in your professional life. Dr. Thompson at Battle Mountain Dental and our caring, well-trained team are ready to give you a smile you will love.
If you have always been wary about getting traditional metal braces to straighten your teeth, we are pleased to offer you another effective solution. Six Month Smiles adult braces can straighten your teeth and give you a smile that can make heads turn.
Why are straight teeth important?
Apart from being aesthetically pleasing, straight teeth have many health benefits as well. It is easier to brush and floss straight teeth, so bacteria is less likely to harden and become plaque that can eat at your enamel. Bacteria can also more easily hide between crowded teeth, so you may not even be able to see the plaque that may eventually cause pain or infection. Having your teeth straightened will reduce your risk for cavities and infections.
What is so fabulous about Six Month Smiles adult braces?
There is so much to love about the Six Month Smiles system:
Six Month Smiles adult braces take six months to straighten teeth. Yes, that's right—just six months! Six Month Smiles adult braces have no metal that can cut or scar the inside of your mouth.
Six Month Smiles adult braces include only one wire that gradually straightens your teeth into a perfect smile.  However, this one wire requires no tightening, which reduces pain and discomfort.
The Six Month Smiles adult braces system uses clear non-metal brackets and a tooth-colored wire. Your Six Month Smiles braces should be unnoticeable most of the time including in photographs.
The Six Month Smiles adult braces system is ideal for adults because it can be applied to only the teeth that show in your smile, can take less time, can be almost invisible, and can cause less pain.
You can be smiling big again in just six months! Call Battle Mountain Dental today and learn more about our Six Month Smiles adult braces system.